Golfers,
24 of us competed at a beautiful golf course at Arrowood Golf Club in Oceanside, CA. The course was fun but yet challenging! The comments I get from many of you have said you enjoyed the course.
Congratulations are in order for the following golfers for their accomplishments:
Gross Score:
Mike Mabashov conquered the course with a score of 77 from black tee box! Even though he said he could do a lot better, you did a great job!
Net Score:
Alfred Casaccia captured the first grand prize of his career at the PCDGC event with a net score of 70! He earned it after he had to encounter traffic delay and arrived in time for golfing! Congratulations, Alfred.
Putt:
Mike Mabashov putted only 29 times as he was the only golfer to go under 30 putts!
CTP:
Four different golfers won CTPs. Rookie Dave Elliott won one and the eldest golfer, Peter Seiler won one!
I also attached up to date points after 2 tournaments for your reference. Remember each golfer will need to play at least 5 tournaments to be eligible for the End of Year Prize.
After some of you gave us feedback about groupings and the length of time of playing golf, PCDGC Board will discuss ways to improve for better ways to set up each group to ensure we play 5 hours or less. We will send out messages sometimes next week.
Next golf outing is Saturday, October 17th at Oak Valley in Beaumont, CA. First tee time will be at 12 noon. More information will be forthcoming. Thanks!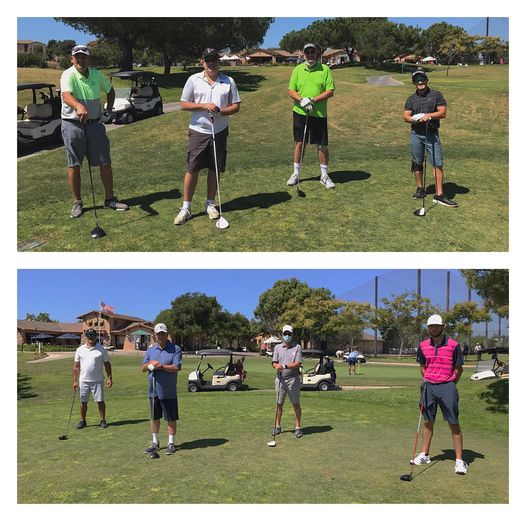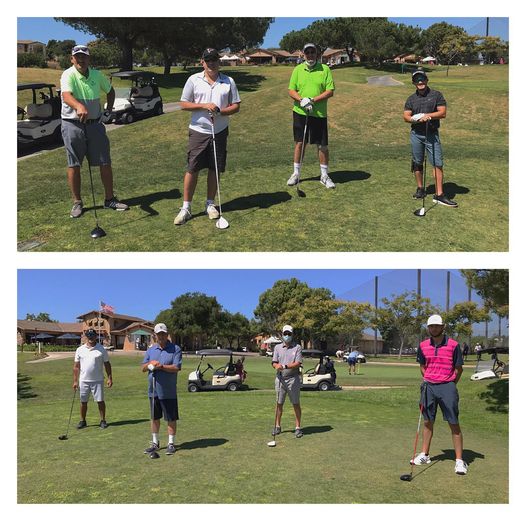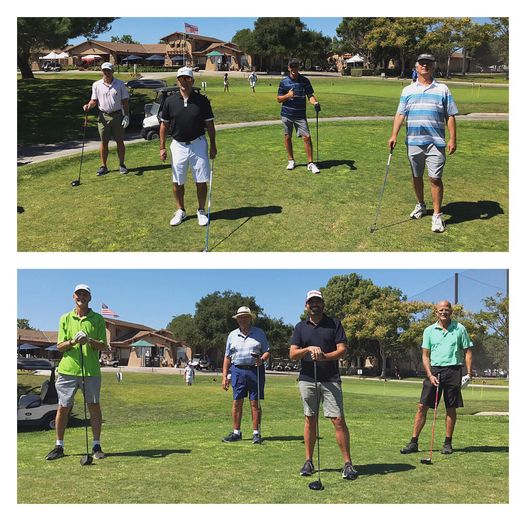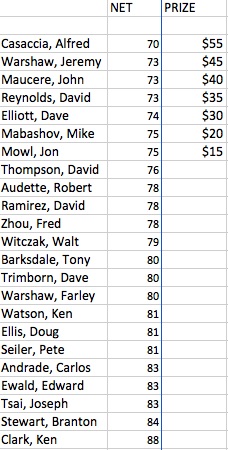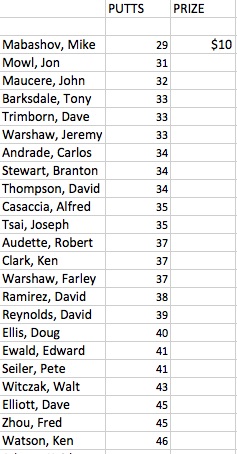 Hello PCDGC Golfers –
Arrowood is a beautiful course! I hope you enjoyed it as much as I did! The Skins competition had a total of 15 participants for a prize total of $75. There were 6 Skins won…..the best part? There were different winners for each skin won! Only 1 skin was won on the front 9 (we started on 10th hole) – and 5 skins won on the first 9 holes (back 9). The winners:
| | |
| --- | --- |
| Total Prize 15 x $5.00 = | $75 |
| Robert Audette – 1 Hole # 5 | $12.50 |
| Jeremy Warshaw – 1 Hole #10 | $12.50 |
| David O. Reynolds – 1 Hole #12 | $12.50 |
| Farley Warshaw – 1 | $12.50 |
| Alfred Casaccia – 1 | $12.50 |
| David Ramirez – 1 | $12.50 |
Skins Game Results
I will distribute the prize money as soon as possible. The tally for this year skins competition is:
| | | | | | | |
| --- | --- | --- | --- | --- | --- | --- |
| Golfer | Event #1 Skins | $ Earned | Event #2 Skins | $ Earned | Total Skins | Total $ Earned |
| Robert Audette | 4 | $ 40.00 | 1 | $ 12.50 | 5 | $ 52.50 |
| Jon Mowl | 1 | $ 10.00 | | | 1 | $ 10.00 |
| Dave Trimborn | 1 | $ 10.00 | | | 1 | $ 10.00 |
| Jeremy Warshaw | | | 1 | $ 12.50 | 1 | $ 12.50 |
| David O. Reynolds | | | 1 | $ 12.50 | 1 | $ 12.50 |
| Farley Warshaw | | | 1 | $ 12.50 | 1 | $ 12.50 |
| Alfred Casaccia | | | 1 | $ 12.50 | 1 | $ 12.50 |
| David Ramirez | | | 1 | $ 12.50 | 1 | $ 12.50 |
Please let me know if you have any questions or concerns.  Thank you!
Jon