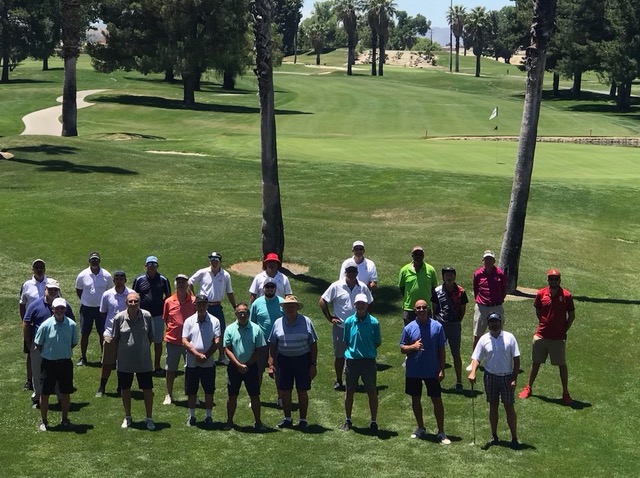 PCDGC Golfers,
As we come to the conclusion of our golf season, I am attaching final stats and results for your pleasure.
Few things I want to share with you. First of all I want to acknowledge some golfers who have contributed or helped PCDGC during the year. They are:
Doug Ellis – He purchased out of his pocket and donated measurement tapes and paper clips for CTPs to PCDGC. Thank you for your contribution.
Jeremy Warshaw – He took the initiative by setting up a Match Play competition. It was successful. Also, he helped a lot with Cash payout charts and Gamebook. Thank you for your contribution.
Robert Audette – Mr Photographer! He took his time to take pictures and posted them. Thank you for your contribution.
Dave Trimborn – He set up the fundraising with pro football and other sports for the 2022 FWGAD Tourney. Thank you for your contribution.
David Thompson – Thank you for taking care of labels and updated golfers' handicap after every tournament.
Pete Seiler – Most of you may not know about this but he donated a lot of money to PCDGC for the FWGAD tournament after he won a few prizes from a few fundraising contests. PCDGC appreciates your generosity.
Scott Kramer – Even though he paid $30 for membership, he did not play one round all year and he insisted the money be donated to PCDGC. Thank you, Scott.
Robin Taylor – She is not a member of PCDGC but she did an outstanding job with the design of PCDGC logo as well as the 2022 FWGAD Tournament. I am attaching below for your eyes. Thank you, Robin!
Result is attached. Congratulations to the top 7 golfers who garnered cash prizes as well as putting. May the best golfers win tomorrow's last day of the tournament!
Tomorrow's pairings is attached
After golf we met at the Casino's Food Court. They have a pizza stand and Fairway Cafe where they have to-go foods such as hamburgers and sandwiches. The Noodle Bar is in a restaurant so we will not go there. Whoever finishes golf please go to the Casino and get a meal if you desire. We will sit at food court tables.
Be there no later than 930 am so you can have enough time for driving range and chattings. See you tomorrow!Farley
End of the Year 2 – Day Tournament
Net Scores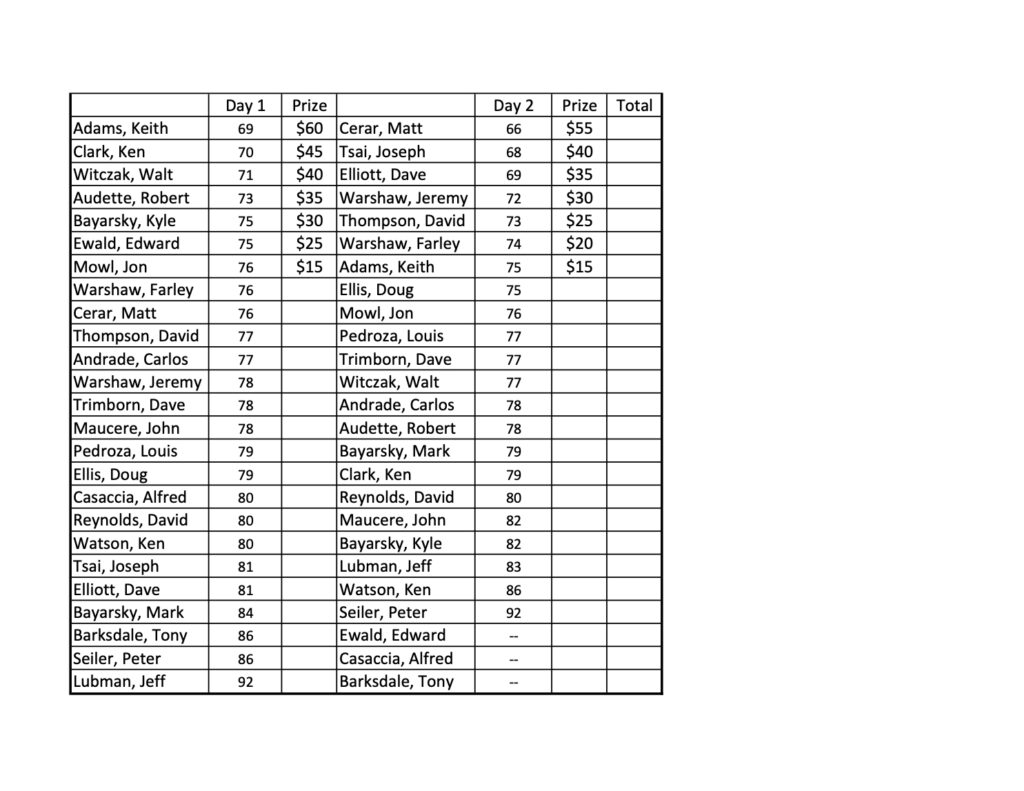 Gross Scores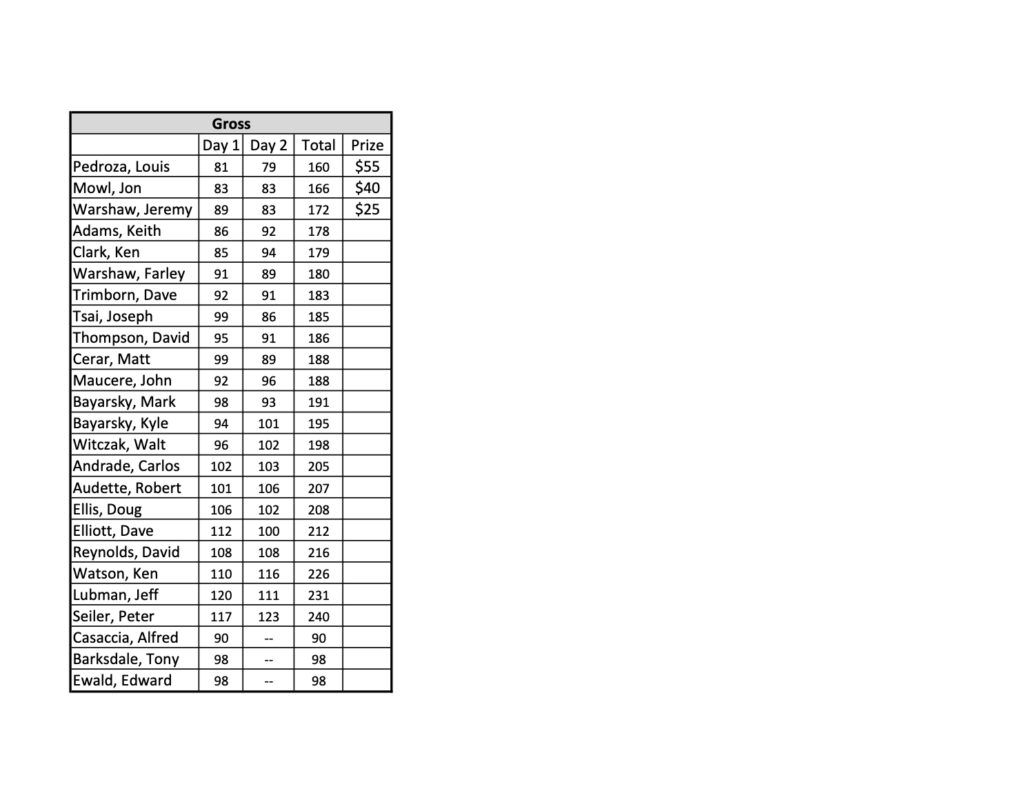 Putting Score
CTPs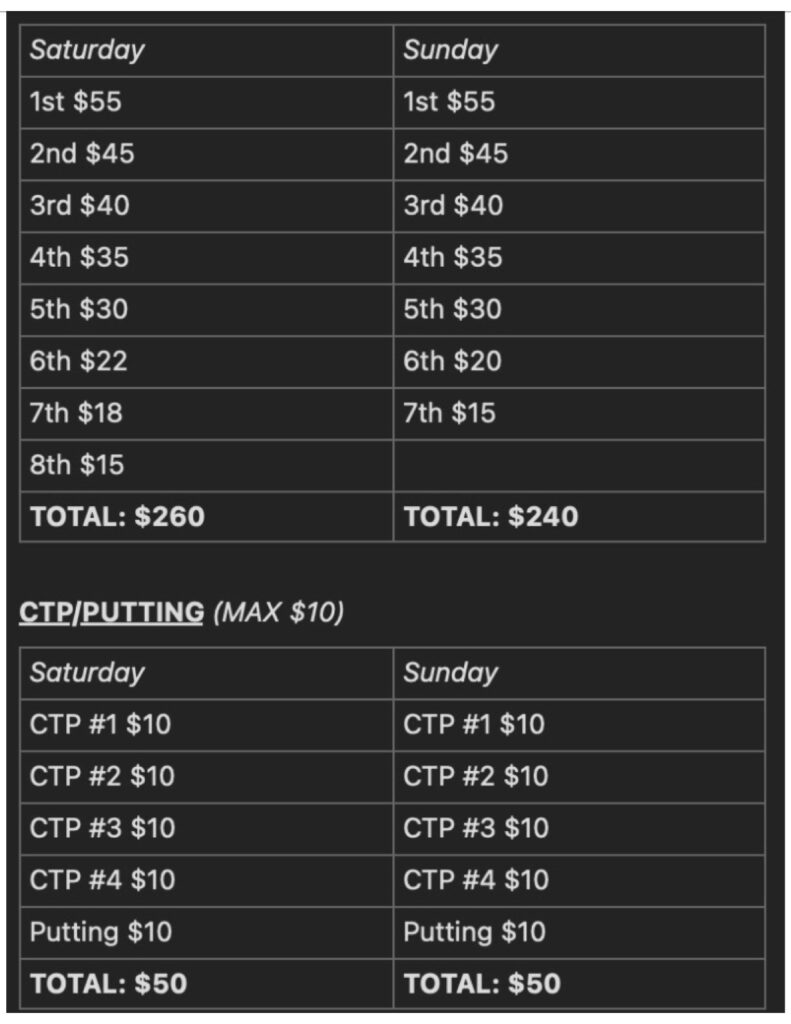 Golf Of the Year Points
Cash Payout
Skins