PCDGC Golfers,
Last Saturday was a beautiful day to play golf! Lot of golfers wore shorts and just polo shirts! Obviously nice weather contributed to two golfers who deserved big payday!
Mike Mabashov leapfrogged to first place in Net score after he birdied on hole 15 and eagled on hole 17 to finish with gross score of 74 and net score of 72 beating Dave Trimborn by one stroke! However, David Ramirez who finished third place with a net score of 74 was a birdie machine with 4 birdies! David took advantage by making 32 putts to finish first and propelled David to third place in net score. 
Not only Mike earned a big payday for 1st place in net score but he netted 4 skins! David Ramirez netted 2 skins. So they both earned big payday!
Oddly enough Mike and David did not win any CTP! David Thompson stole the thunder by winning two CTPs with newcomer Kenny Andrew and veteran Jon Mowl with one each. 
Next event is Saturday, March 12th at Menifee Lakes – Lakes course. First tee time is 11 am. $55 including range balls. 
So far I have Scott Kramer, Pete Seiler, Edward Ewald, Antonia Clark, and Robert Audette volunteering to help out during the Winter Cup. I may need one or two more volunteers. If you are interested in helping
out on either Saturday, Feb. 26th or Sunday, Feb. 27th, let me know.
Thanks! Have a good week!
FW
Gross Scores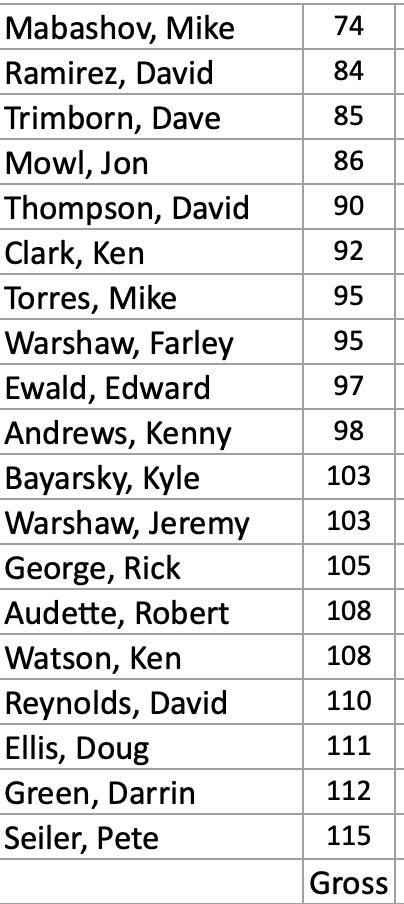 Net Scores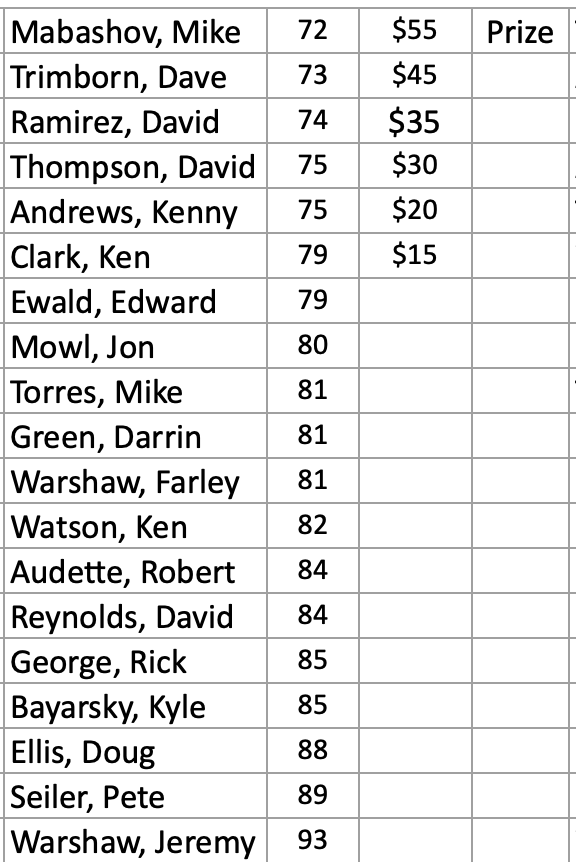 CPTs

Skins