PCDGC Golfers,
Fifteen of us were treated to a beautiful day for golfing at Menifee Lakes Country Club – Lake Course! Several things have happened during the play. First was Matt Cerar who eagled on a par 5 hole #12! He wedged out of a sand trap and bingo he holed it for a score of 3! Congrats, Matt!
Second thing that happened was Rick George who claimed 1st place in net score of 71 after he posted a gross score of 93. Not only that he won 1st place TWO straight months! How often do we see that happen? I guess Rick is going to try for a trifecta when we resume monthly golf in January!
Third thing that happened was that three golfers tied for fewest putts with 29? It seems the number 29 is a magic number for the fewest putts. Jon Mowl, Mark Bayarsky, and David Thompson all shared 1st place. Next time try a new magic number – 27!
Fourth thing that happened was that the average time on the course was 4 1/2 hours! That part was fun?
Last thing we were thrilled that Gamebook has added CTPs back in the app. We loved it! No more clipboards!
Since December is a break from PCDGC Monthly golf, we will have PCDGC Cup. There will be a video message with explanation about the event. It will be Saturday, December 4th at Rancho Del Sol. First tee time is 11 am. Limit to 16 golfers. It will be Red vs Blue teams and the format is two players team scramble. Look for the next email with a video message.
PCDGC will resume on Saturday, January 8th. I am looking at Seven Hills in Hemet for the event. Will let you know after I make the reservation.
Here is the result:
1) Gross Score
2) Net Score
3) Putts
4) CTPs
5) Skins
Jeremy will send out the prizes and I will send out prizes for skins. Have a good week!
Farley
Gross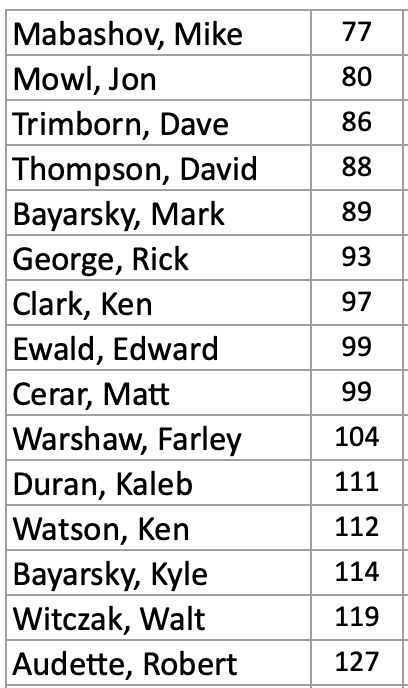 Net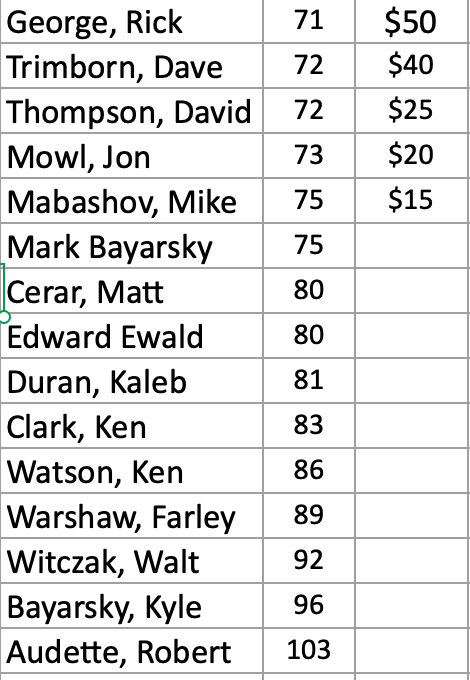 Putts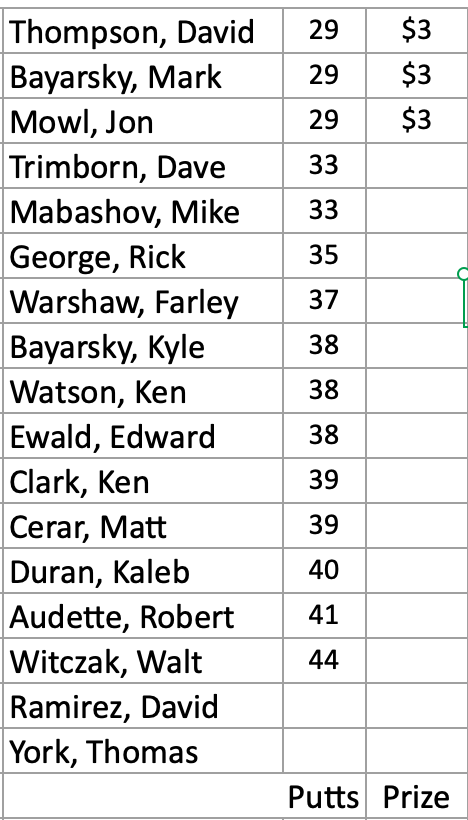 CTPs

Skins