El Prado Golf Course – Butterfield Stage
PCDGC Golfers,
I could not ask for better weather than yesterday! It was a super nice day for golfing. 24 golfers came and competed well. As usual, there were some interesting results.

1) Adrian DeHoyos brought his "A" to his golfing and had a net score of 65 which tied him with Keith Adams for 1st place. Unfortunately he had to settle for second place in prize as Keith had lower HC than Adrian. Congratulations to Adrian!

2) Dave Trimborn with his new driver proved his investment in a new driver paid off as he scored 82, tied with David Ramirez for best gross score of the day. Dave also conquered the putts with only 26 putts! He must have eagle eyes on greens.

3) David Ramirez who faithfully attended PCDGC tournaments from Las Vegas earned $60 in total for 3rd place in Net score and two CTPs. $60 will cover his round trip from Las Vegas in gas?

4) Congrats to Jeff Lubman for improving his gross score which he scored 100. Next time you break 100, we will pour champagne on you!
Skins – The day belonged to Adrian DeHoyos as he won 3 skins! He collected $33. Robert Audette, David Thompson, and Dave Trimborn each won one skin and collected $11.
Attached is:
Gross
Net
Prizes
Putts
CTPs Points – Up to Date
Prize – Up to Date
Putts – Up to Date
AVG Skins

Next tournament is Saturday, May 8th at The Legends Golf Club at Temeku Hills in Temecula.
First tee time is 11:30 am.
Rate is $65 including cart and range balls.

For some of you, please check PCDGC's handicap site as the HC will be updated as well as the number of tournaments you have participated in this year. Remember, if you are to be eligible for the End of Year prize, you need to play at least 5 tournaments.
May's tournament is the 9th outing and June 12th which is the first of two days tournament will be counted as 10th outing. So for some of you who have played 3 times will qualify if you play in May and the first of two tournaments in June.
PCDGC will announce location for PCDGC Cup on May 22nd soon.
See you on May 8th! Farley
Gross Scores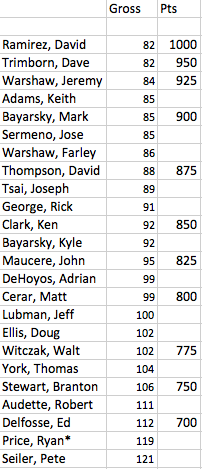 Net Scores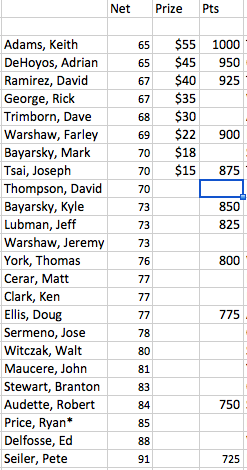 CTPs

Putting Scores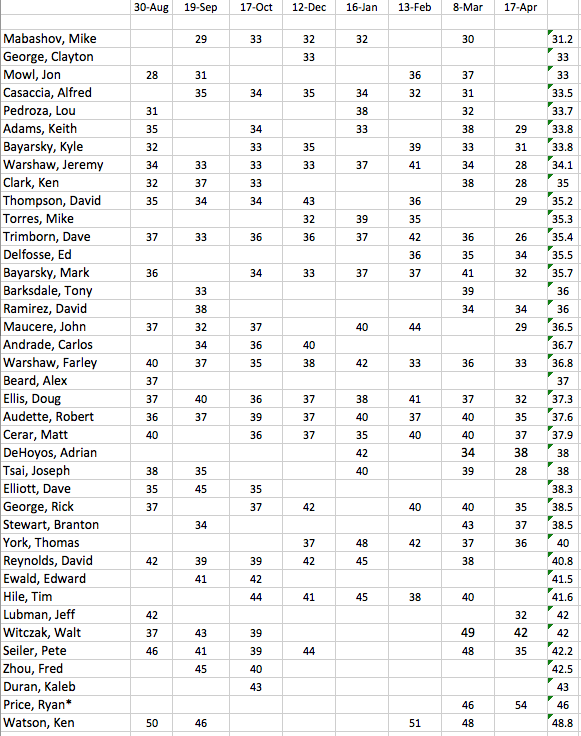 Total Prizes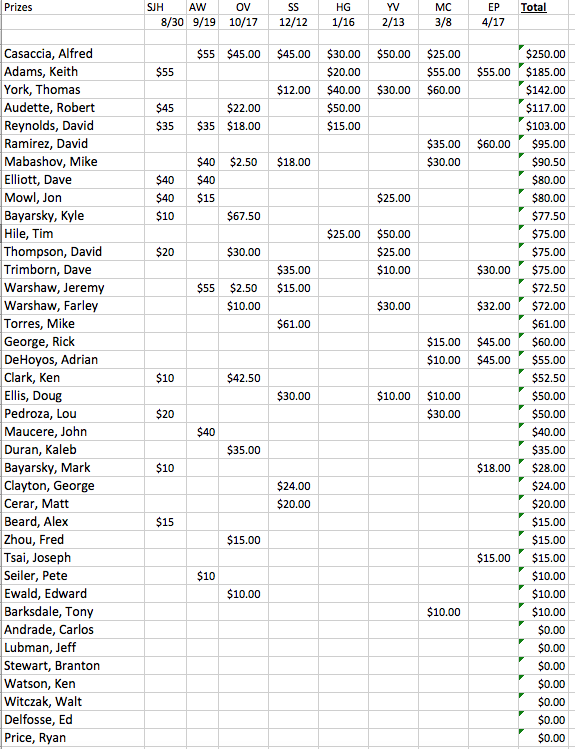 GOY Points