Hi PCDGC golfers,
Last Saturday 20 of us gathered at The Vineyard in Escondido, CA for the second monthly PCDGC event. Weather was beautiful and the course gave us some challenging holes but, yet, it was fun to play!
John Maucere's grinning was the biggest ever I saw at any PCDGC golf outing because he finally was crowned as the winner of net score with 69! He collected $55 and he thought he would be the king of putting contests with 30 putts. Unfortunately Charles Holmes, a guest from Livermore, CA stole the thunder from John by putting it only 29 times. Sorry, John!
Charles drove all the way to play in our tournament and his reward was going home with runner-up in net score with 70. He padded his wallet with $45 plus $10 for putting and $10 for one CTP. So his gas for the round trip is paid for?
Mike Mabashov continues to post best gross score with 75.
14 golfers participated in Skins and only 4 came out winners! Each winner earned $15 per skin.
On a different note – When the first group was done with golfing it took about 5 hours and 15 minutes of golfing. That was a little too long. The goal is always under 5 hours. Last month it was 4 hours and 30 minutes. We need to do a better job of improving the pace next time.
Next golf tournament is Saturday, October 16th at Oak Valley in Beaumont, CA. We golfed there last year. First tee time is 12 noon. Green fee and cart is $58. This will be our last outing where we start at 12 noon. In November we will start at 11 am and will be before 11 am until April.
See you on Oct 16th! Farley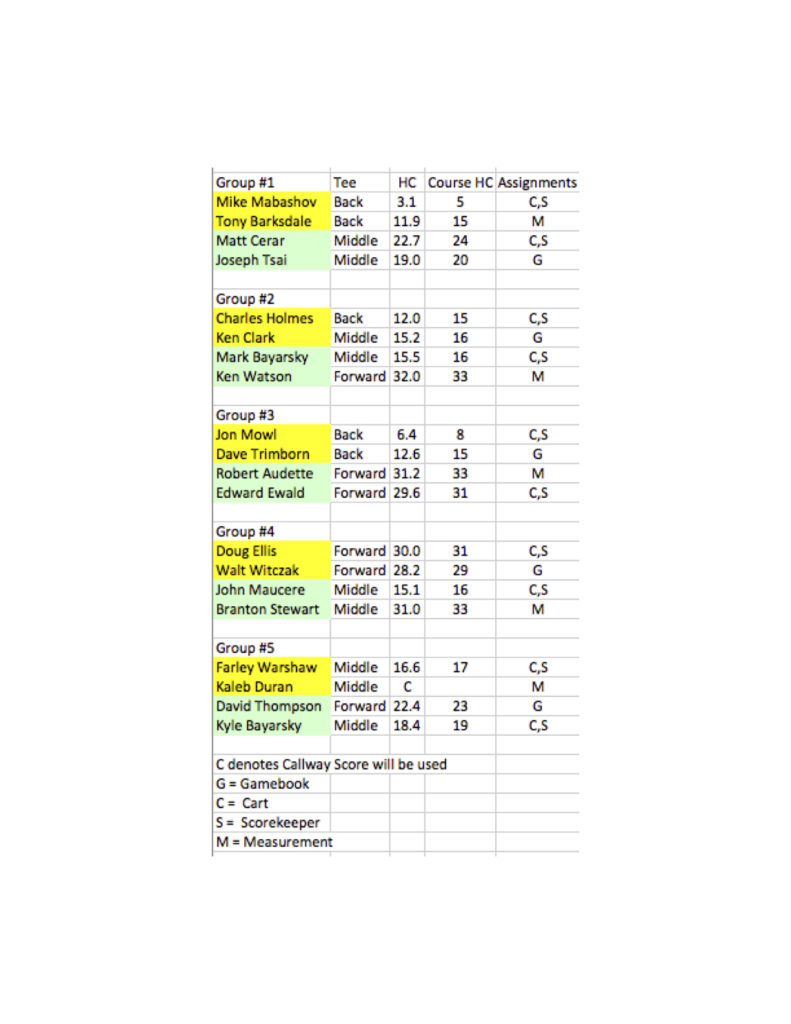 Hi PCDGC Members and Nonmembers,
PCDGC Golf Tournament #2 will be held at The Vineyard at Escondido in Escondido, CA.
Date: Saturday, September 18, 2021.
First Tee Time; 12:00 pm
Player Limit: 24 Golfers
Golf Course: The Vineyard at Escondido
925 San Pasqual Road
Escondido, CA 92025
Website: https://www.vineyardatescondido.com/
Green Fee – $62.00 (includes cart). Payable at The Vineyard pro shop.
Prize Fee – Members $15. Non-members $25. Payable via Cash App at $PCDGC1. Prizes are for Net winners, CTPs, and Putting.
DEADLINE – Monday, September 13th
Skins – Optional. Pay $5 to Farley Warshaw via Cash App at $farleywar.
Weather – Escondido is usually cooler (average temperature is in the low 89's) to play in summer as it is near the beaches.
Group picture and short meeting please meet at 11:30 am near the pro shop.
Scorecard is on the next page but also can be found on the course website.
See the link below for signed information and also information about future tournament dates.
PCDGC looks forward to seeing you at the golf course on the 18th!
Pete Seiler
—
Pacific Coast Deaf Golf Club Board