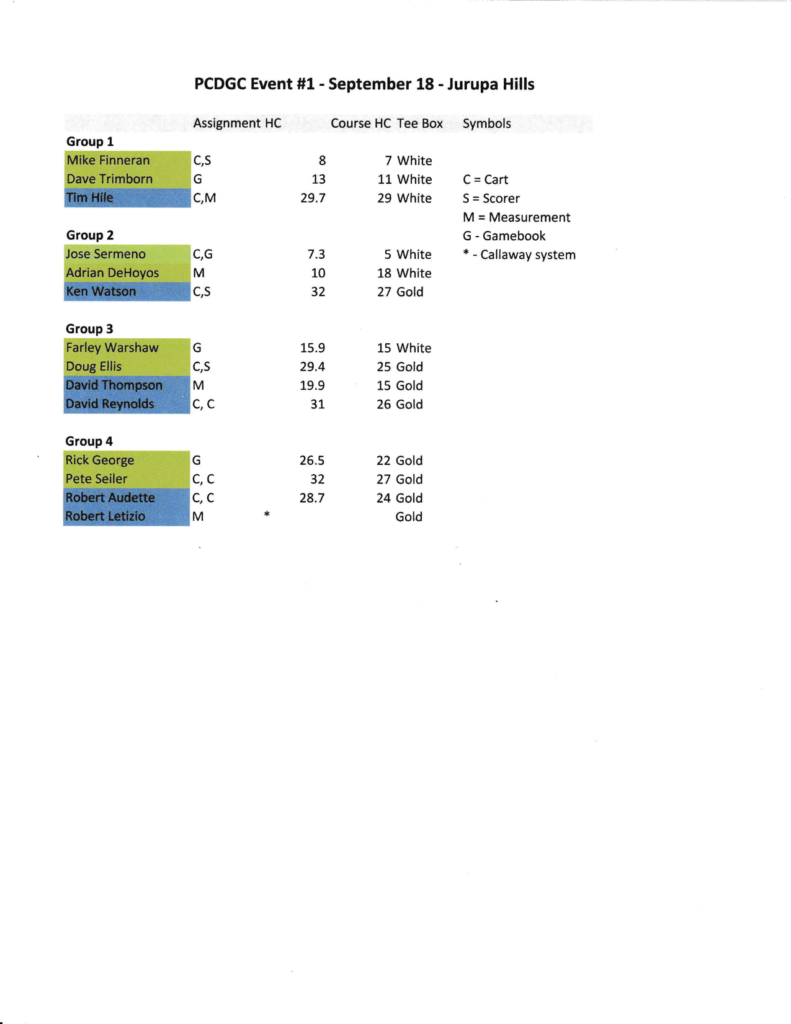 Hi PCDGC Members and Nonmember
Farley's video message about drawing prizes
It's time for our first monthly golf outing for 2022-23. PCDGC Golf Tournament #1 (September) will be held at Jurupa Hills Golf Club
Date: September 18, 2022.
First Tee Time; 9:30 AM
Player Limit: 24 Golfers
Golf Course: Jurupa Hills Golf Club ,6161Moraga Ave., Riverside, Ca 92509
Website: http://www.jurupahills.net/
Green Fee – $64.00 (includes cart). If you want to practice before playing, the range balls and green fee will be $67.00. Payable at pro shop.
Prize Fee – Members $20. Non-members/guests pay $30. Payable via Cash App at $PCDGC1.
The fee is for prizes for Net winners, CTPs, and Putting.
DEADLINE – Saturday, September 10, 2022.
Skins – Optional. Pay $5 to Farley Warshaw via Cash App at $farleywar.
Group picture and short meeting please meet at 9:00 AM near the pro shop.
Scorecard can be found on the course website and below.
Additional Information: This is the 1st of 10 tournaments. Please remember that you need a minimum of 5 tournaments to qualify for the end of the year tournament prizes.
Next Tournament: October 15, 2022. More information later
See you on September 18th.
Pete Seiler, Secretary